WP Mail SMTP Mailer Plugin Review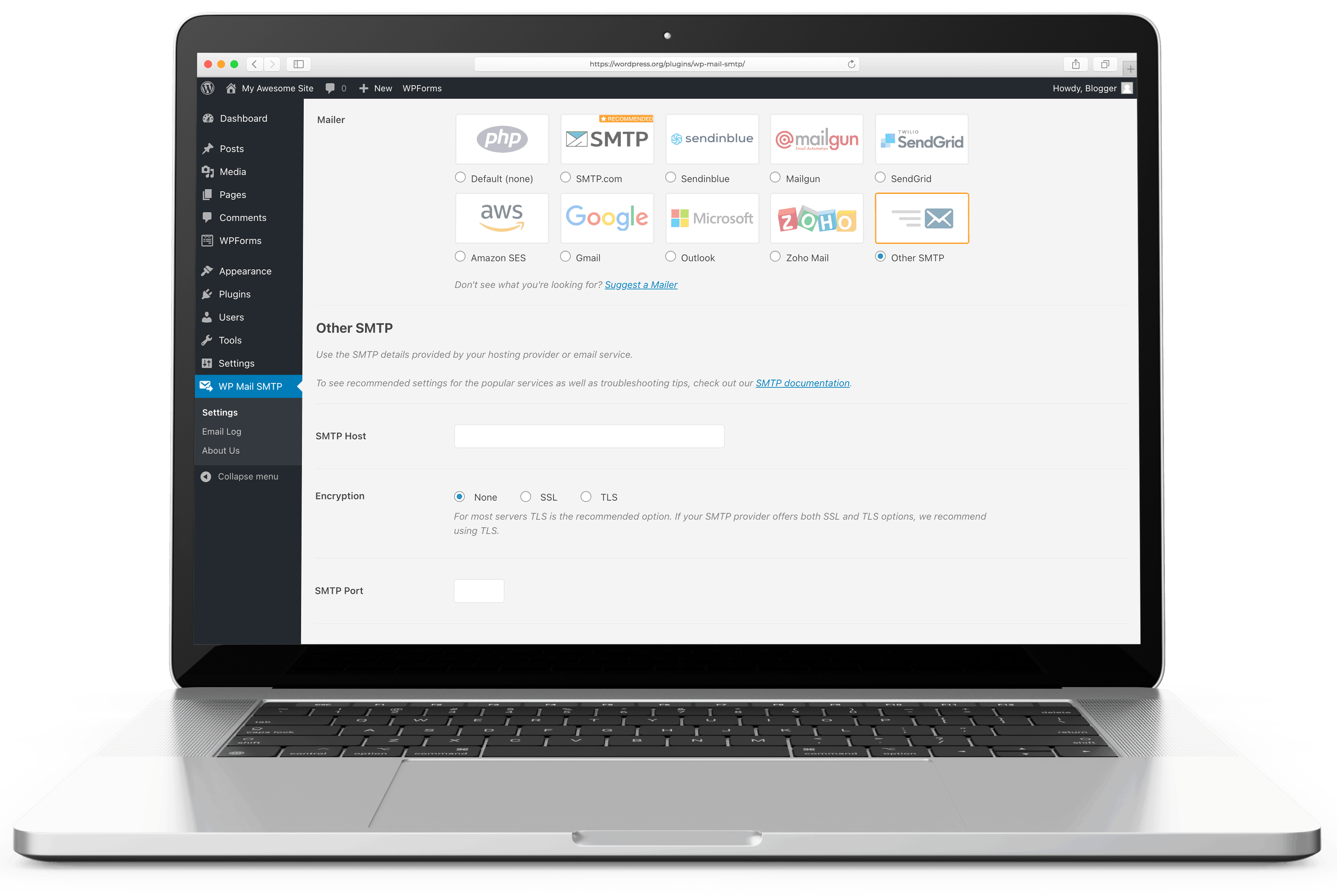 Setting up a website with the WordPress platform is easy. Thousands of pre-built templates or themes allow any user to set up a full-fledged website without even writing a single line of code. All of this is great! However, problems arise while setting up outgoing emails which are either not delivered or land inside a spam folder due to authentication issues.  
By default, WordPress uses the PHP mail function that has a reputation of being abused for sending out spam emails. Due to this, the majority of the hosting providers also keep it disabled to protect their IP ranges from getting marked as spammers, thus, the emails from your WordPress site are not delivered to you. 
To bypass the default WordPress mailing feature, a very popular solution is to use an SMTP plugin that allows you to use any third-party emailing service like Gmail, SendGrid, or Mailgun to send emails from your WordPress site. 
To set up the SMTP service in WordPress you require a plugin like 
WP Mail SMTP that comes with many built-in features.
Features WP Mail SMTP Plugin Offers
WP Mail SMTP plugin is developed by WPForms and has over 2 million active installations and over 2,000 5-star ratings. This plugin is easy to set up and offers a variety of SMTP services to choose from. Let's look at some of the outstanding features of the WP Mail SMTP plugin.
Support Multiple SMTP Providers
The WP Mail SMTP plugin supports an array of SMTP providers. This allows the users to pick the desired SMTP service for delivering their WordPress emails without limiting them to just a couple of options. 
Here are some of the SMTP providers the plugin supports.
SMTP.com (via API)
Sendinblue SMTP (via API)
Mailgun (via API)
SendGrid (via API)
Gmail (via a web application)
Microsoft Outlook (via a web application)
Amazon SES (via a web application)
Zoho Mail (via API)
Note: The support is not limited to the list above. Other SMTP services can also be configured using the required settings inside the WP Mail SMTP plugin. 
User-Friendly Interface
Another noteworthy feature of the WP Mail SMTP plugin is its user-friendly interface. It comes with a built-in setup wizard which makes the configuration process simple.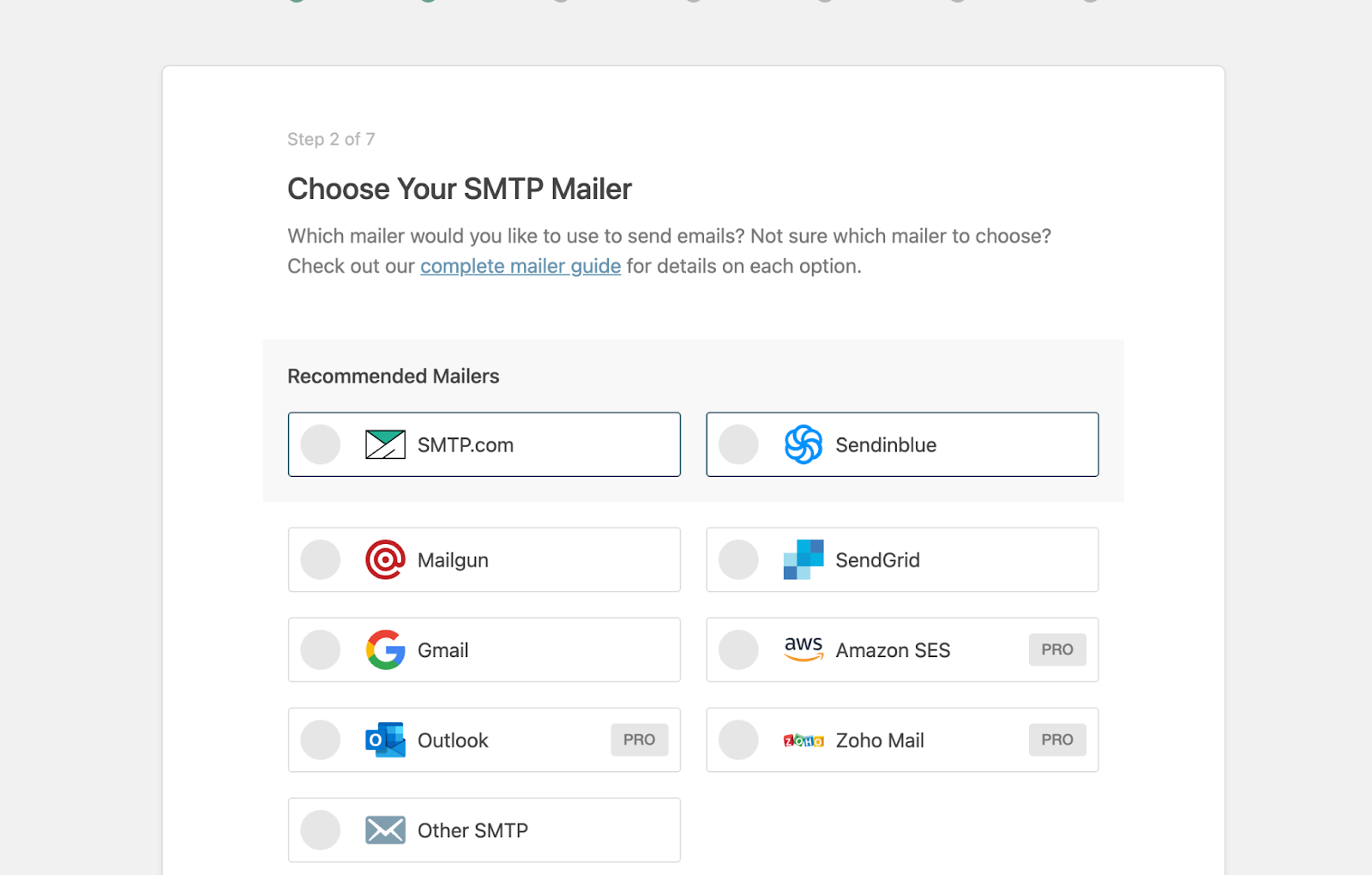 The wizard takes you step-by-step to every process and also contains links to helpful resources in case you want to learn more. Inside the dashboard, you can easily navigate to options like Email logs, Email controls, and Tools.  
Security
Security is an essential element when you are operating online. WP Mail SMTP plugin follows the best security practices and it also offers various security options to its users. For example, instead of adding the credentials directly to the WordPress database, the plugin uses tokens or API keys to protect your credentials. Similarly, while using "Other SMTP" providers, it gives you the option to enter a password inside the WordPress wp-config.php master configuration file so it does not get saved inside the database.    
Documentation 
Just like any good plugin, WP Mail SMTP also maintains well-structured documentation for its users. This documentation does not only help the users to use the plugin properly but also helps the developers to check for compatibility issues and to troubleshoot other technical problems.   
WP Mail SMTP Pro Features
WP Mail SMTP is free to use but the free version offers limited features and if you wish to unlock extra features you need to purchase its premium version. The pro version of the plugin starts from $49/year and goes all the way to $399/year for its agency plan.
WP Mail SMTP pro version offers the following added features: 
Email Logs
This feature logs all the emails sent from your WordPress site. This can help you maintain a record of all outgoing emails and also to debug any issues. 
Manage Emails And Notifications
WordPress sends notifications to its admin on certain activities. This option allows you to control these notifications and allow only those you consider important. 
WordPress Multisite Network Settings
Another great feature if you manage a WordPress Multisite network. This feature enables you to manage the SMTP settings of all the sites in your network from a centralized panel. 
Expert Support
Premium features come with expert support. It means you can reach out to developers for any issues related to the WP Mail SMTP plugin and they will resolve your issues on a priority basis. 
White Glove Setup
If you come across any blockers while configuring the SMTP service then this feature allows you to get help directly from plugin experts who will install and configure WP Mail SMTP for you.  
How Does the nanoPost Simplify SMTP Configuration?
nanoPost is a unique and simple SMTP solution that does not require any complex configuration process and is easily integrated with just a few steps. nanoPost is completely compatible with the WP Mail SMTP plugin.
One-Click Registration & Set Up
Registering an account to use nanoPost is simple and hassle-free. All you need to do is to 
visit our website and sign up with your desired pricing plan. Currently, we are offering just two options; Free and Paid.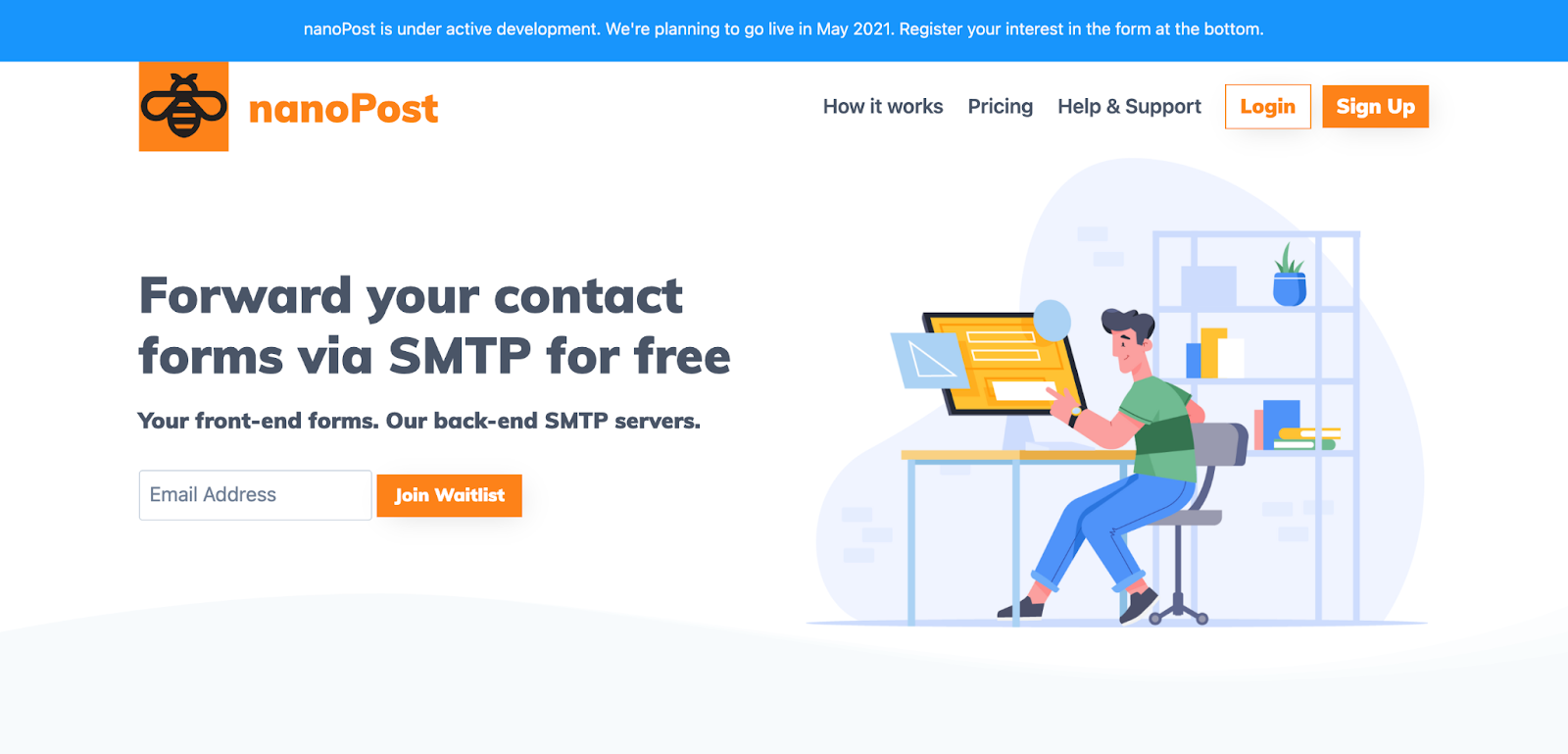 No Messing With DNS
The primary goal for developing a service like the nanoPost is to allow the users to easily set up an SMTP service without messing with DNS and other security configurations. Modifying DNS settings is a tricky business and not everyone is technically suitable to perform such tasks.  
Easy To Set Up Within WordPress Plugin
We all love and admire good WordPress plugins and for the same reason, we made the nanoPost integration super easy with WordPress SMTP and contact form plugins.  
To get your nanoPost SMTP credentials, simply provide us with your email address, verify its ownership by clicking on the link sent to you from the nanoPost, and finally, use the SMTP credentials inside your desired WordPress plugin. 
Let's see how the nanoPost SMTP service is configured using the WP Mail SMTP plugin.
Inside the plugin's wizard, chose the Other SMTP option from the mailer list.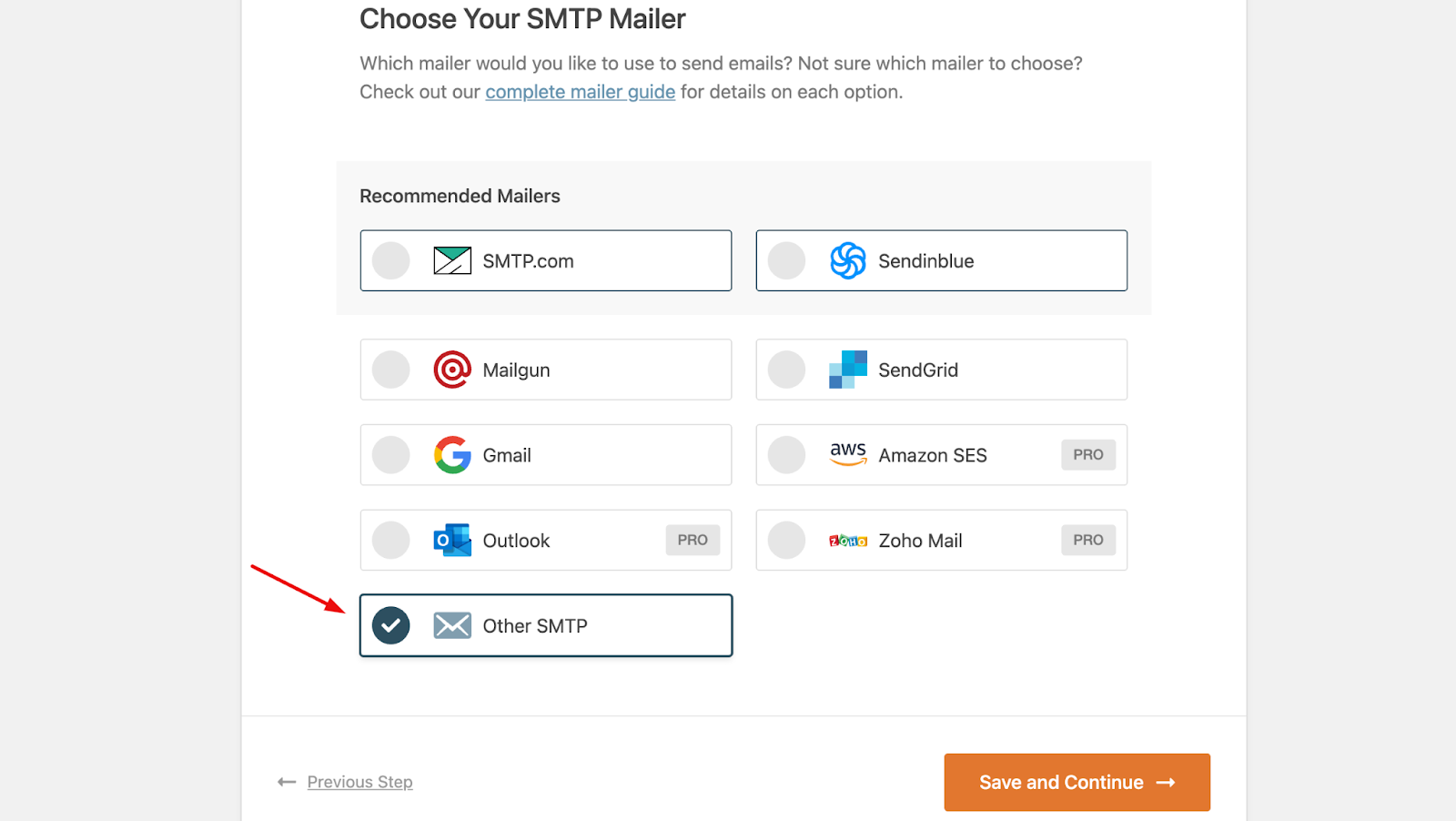 On the next screen, enter the nanoPost credentials required to set up the SMTP service. The required settings are: 
SMTP Host: smtp.nanopo.st
Encryption: TLS
SMTP Port: 587
Authentication: Enable Authentication
SMTP Username: (The username with which you registered on the nanopo.st site)
SMTP Password: (The password you selected on the nanopo.st site)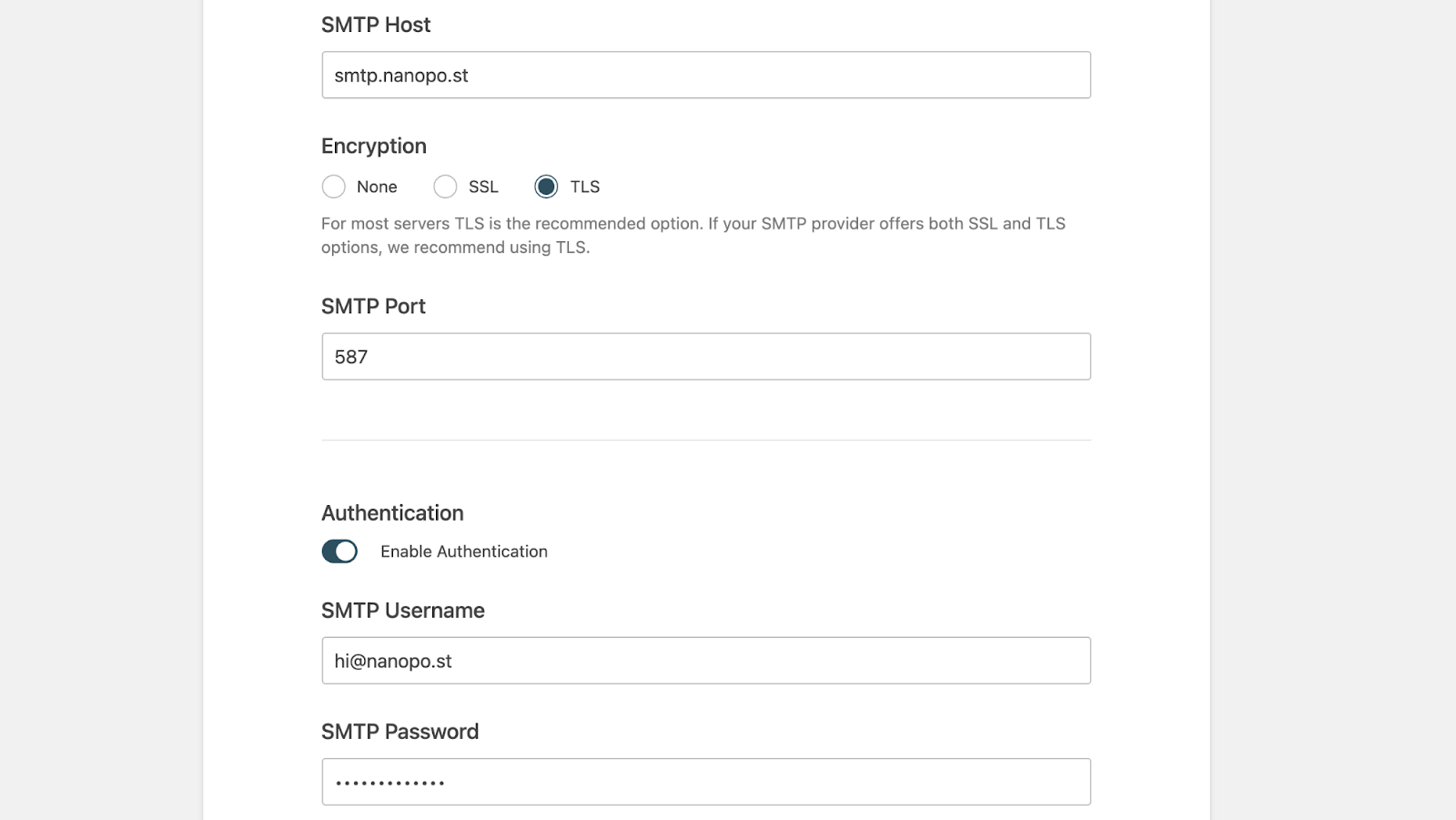 Click on Save and Continue to complete the process. That's it! In just two simple steps we successfully configured an SMTP service using the nanoPost.
nanoPost SMTP service is easy to manage and does not require complex 3rd-party integrations. It is an ideal solution for people who simply want to receive emails directly into their inboxes from WordPress sites.      
Conclusion
WordPress and its ecosystem are continuously evolving to make lives easier for its users so they can spend more time building the business and less time figuring out the technical stuff. nanoPost does exactly that. It is a simplified solution for the users who do not wish to go through the long and complex process of setting up an SMTP service when all they need is to receive outgoings emails inside their inboxes.