Once you've set up your WordPress website, you may want to receive emails from it, such as  WordPress notifications and contact form submissions.
By default, WordPress relies on the PHP mail() function which sends emails directly from your server. However, servers' mail sending capability is often disabled by hosting providers due to security reasons, to prevent abuse, or because some don't support this function at all. And even when it is enabled, for a host of reasons, email sent this way will likely be marked as spam and not reach its destination. 
The solution is to use an external, third-party email service. There are many such services (we have a 
list of the top email service providers). To easily consume such a service, you will need a Wordpress mailer plugin. Easy WP SMTP (
https://wordpress.org/plugins/easy-wp-smtp/) is a popular and easy-to-use WordPress plugin that you can download and use for free.
Overview
Here's an illustration of the stack you'll need to send emails from Wordpress: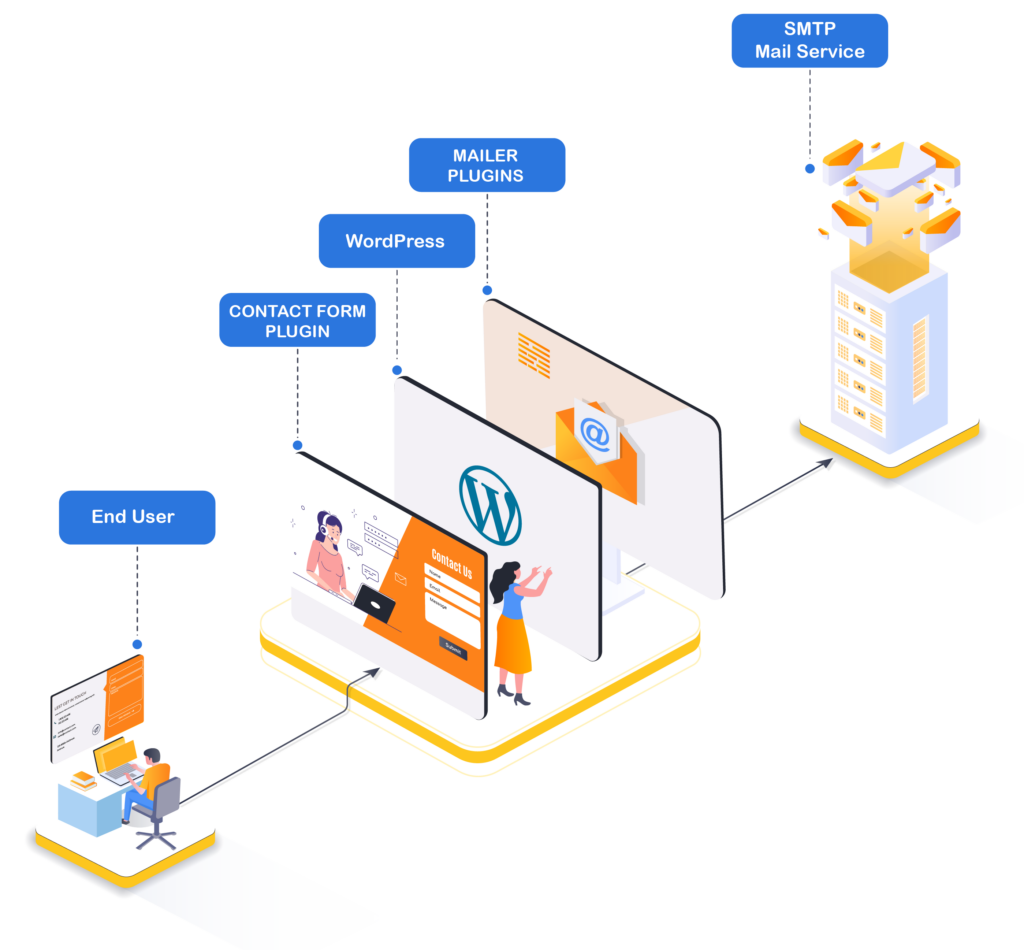 Easy WP SMTP Features
Facilitates sending emails via an SMTP server without depending on server capabilities and bypassing any restrictions of server/hosting provider.
Enables using free SMTP services such as Gmail, Yahoo, and Hotmail SMTP servers, provided you have an eligible account with them.
Seamlessly connect your WordPress blog, Portfolio, Woocommerce store, or company website with your preferred mail server to handle all outgoing emails. Recipients of your emails would see them as if they are directly coming from your email account.
Securely deliver emails to recipients with support for SSL/TLS encryption and SMTP authentication.
Option to enable debug logging to check whether emails are being delivered as expected or there are any issues.
Option to specify a reply-to address, regardless of the sender email address (This is useful when you need to send emails with a generic email and provide feedback/support with a dedicated email).
Option to send test emails to verify if the emails are getting sent out successfully. You can send any number of test emails to any email address you need. (Extra: This is also helpful when debugging mail delivery issues with certain email services).
Provides a facility to export or import SMTP settings.
Easy WP SMTP Pro Features
Easy WP SMTP does not offer a Pro version.
Installing and setting up Easy WP SMTP
Plugin installation is easy and similar to installing any WordPress plugin available on the WordPress plugin directory.  
Download the plugin on the Wordpress plugins directory 
here, and install it as you would any plugin. Once the installation is complete, go to Settings -> Easy WP SMTP to configure the plugin.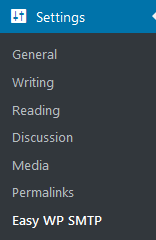 You will be presented with a configuration page with three tabs named SMTP Settings, Additional Settings, and Test Email.In this article, we'll be demonstrating how to set up Easy WP SMTP for use with the free nanoPost SMTP service. However, the same principles apply to any other SMTP service.
You can insert your SMTP credentials in the SMTP Settings tab.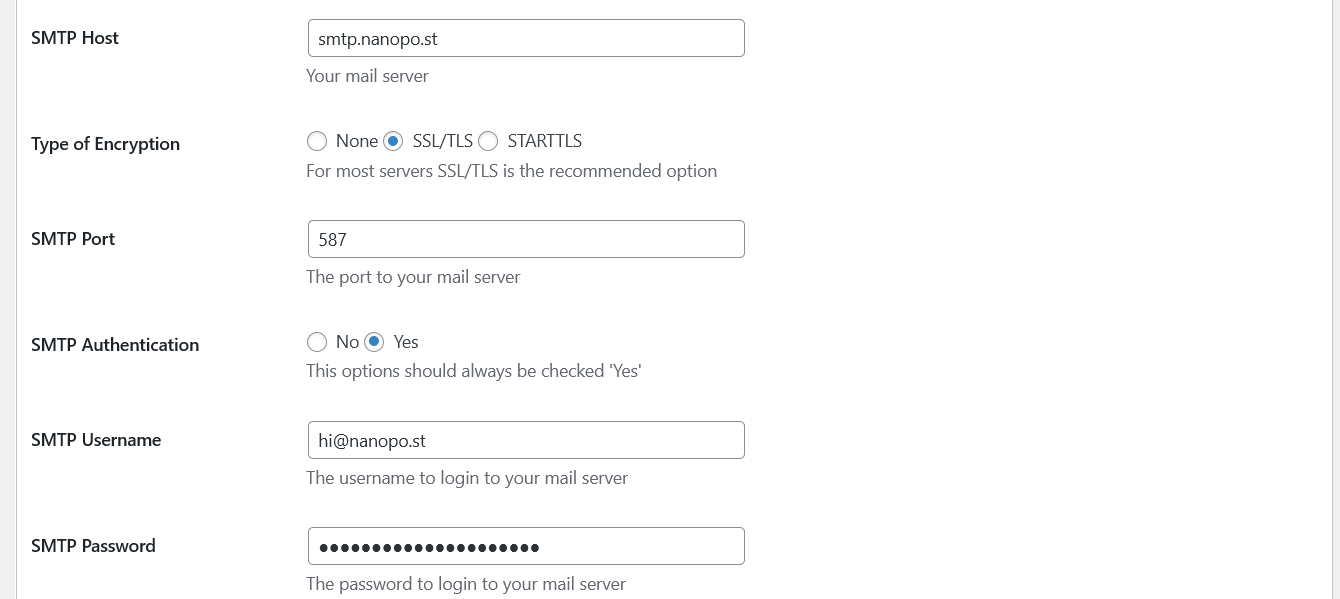 From Email Address:
This is the email address that will be used to send emails to your recipients. It will be shown as "Sender" in their inbox. 
(For example: hello@yoursite.com)
From Name:
The name your recipients will see as the "Sender Name" in their inbox.

Reply-To Email Address:
This is an optional entry of an email address that recipients can use to reply to your emails. Leaving this blank would use From Email address as the Reply-To email address. This option is useful if you need to collect replies from recipients to a different email address. 
(For example: contact@yoursite.com)
BCC Email Address:
Optional entry for having a BCC for every email your WordPress website is sending. You can add multiple email addresses in BCC, using a comma as the separator.
(Ex: mailrecords@yoursite.com)
SMTP Host:
This is the outgoing mail server that your SMTP service provider will provide.
(For example: smtp.nanopo.st)
Type of Encryption:
This will also be provided by the SMTP service provider and different services may use different encryption methods. It's always advisable to choose one that provides encryption.
SMTP Port:
The port that will be used to relay outbound mail to your mail server. Often used SMTP ports are port 587 or 465 for SSL/TLS and 25 for no encryption.
SMTP Authentication: This is a security feature used to verify email sending, and a good SMTP service should always offer this functionality out of the box. This option should be always enabled.

Username and Password: Login credentials provided by your SMTP service provider. 
Once you fill out the necessary information, go ahead and save it.
Extra features
These are optional features. Leaving them in their default state is fine.
Don't Replace "From" Field:
This feature is useful when you have multiple aliases on your SMTP server, and you don't need every alias to be replaced by the email address of the "From Email Address" field when sending an email.

Enable Domain Check:
This feature should be used to allow email sending only if the website is running under a specific domain(s). If the Block all emails option is enabled or there is a domain mismatch, the plugin will block sending all the emails.

Encrypt Password:
The password provided in SMTP credentials is normally saved in the wp-options table of the WordPress database. Enabling this option will encrypt the password using AES-256 encryption.
Allow Insecure SSL Certificates:
This feature will allow using self-signed SSL certificates for the SMTP server though it's not recommended to do so.
Danger Zone:
In this section, you can import/export your settings and completely remove the plugin with all the changes (settings, database entries, etc.) it has applied to the server.
Reasons to choose Easy WP SMTP over other plugins
There are numerous SMTP plugins available for WordPress, each having its own pros and cons. Among them, I prefer the Easy WP SMTP plugin due to the following reasons.
No nag screens in free version.
It comes with a built-in debug log, which is extremely helpful in debugging in case of any error.
It provides built-in security features such as domain restriction.
It consists of a built-in email testing feature.
It is very easy to configure.
Choosing an SMTP service provider
Choosing a reliable SMTP service provider is not an easy task, nor should it be taken lightly. 
While you could go with a free SMTP service offered by Gmail, that involves a lengthy and complicated process. You need to know your way around the Google API Console to set up an SMTP server. You will also need to set up DNS entries, such as SPF and DKIM.
A good SMTP service provider should be easy to set up on the server-side as well as the client (WordPress) side. Furthermore, it should be secure, reliable, compatible with all the major email clients, and offer satisfactory customer service.
nanoPost meets all these requirements and more.
It offers an extremely simple and straightforward setup process. Quick registration and email verification are all that is needed on the server-side. The whole process of configuring nanoPost as an SMTP service provider includes just a handful of details on the SMTP plugin for the client-side.