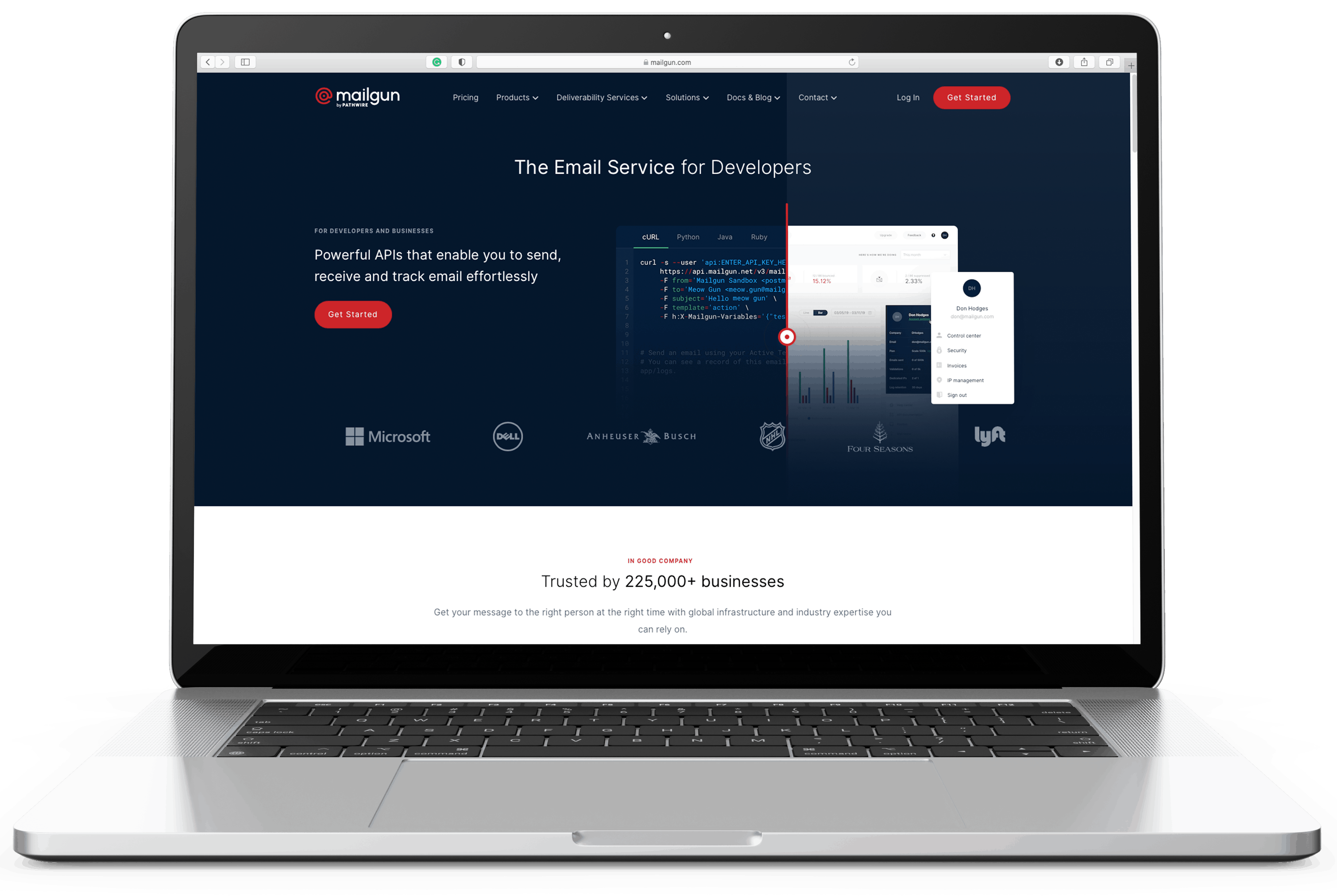 Do you need to forward your contact form submissions to your email inbox?
One way to do so is by using an SMTP email service, such as 
Mailgun, 
SendGrid, or 
Mailjet. But if all you need is to forward contact form submissions to an email address these services can be overkill. Alternatively, you could use nanoPost, a simple service to forward any submission from a contact form directly into your inbox.
The big SMTP services are not easy to work with, and you have to go through tedious setup and verification procedures to use them. So, if you don't have that big tech team, those might not be the perfect fit for you. And not to mention that some of them can be pretty costly, even for a low number of emails. 
Those big companies offer excellent services and many valuable integrations, including for WordPress. However, setting them up can be very challenging for a person without a technical background or a big budget. This is why we offer nanoPost as a tiny alternative.
About Mailgun
Mailgun is a cloud-based emailing service for developers. It enables you to send, receive and track emails sent through your websites and applications. Mailgun offers an easy-to-use SMTP integration and a RESTful API that can help you send transactional or marketing/bulk emails. 
When signing up for Mailgun, you must pass through a verification process to prove that you are not a spammer. Their system will check your domain, sender reputation, IP reputation and other factors. Based on your overall score, your account will be either activated or not. Mailgun is very strict regarding the reputation of their IPs, so you can be sure that their checks are extensive. 
Mailgun Pricing
Mailgun offers a free trial for three months on their Flex plan. You get 5,000 free emails per month and access to basic functionality. After the first three months, you can stay on the Flex plan and pay only for the emails you send, or you can choose another one of their tiers. 
Mailgun Features
Some of the main winning functionalities of Mailgun are: 
With their API, you can check the status and location of your email. 
You can use Mailgun personalisation options to add different variables to create the perfect email for each recipient. 
Receiving emails directly into your mailbox, app or support system is relatively easy with their inbound routing feature. 
Something unique to Mailgun is that you can manage multiple domains under one account, where each domain is a sub-account with its sending queue and reputation. 
Nailing your email design and content for the first time is a stroke of rare luck, so Mailgun offers you A/B testing options. The detailed reports you will get afterwards will help you improve your emails and achieve better and better results.
We should highlight that Mailgun is a service with a focus on developers. So, using Mailgun requires a certain level of technical knowledge and skills. To start sending or receiving emails, you will have to set up your account, including DNS and SMTP or API configuration. For people that manage to complete those steps, we can say Mailgun will offer you infrastructure, features and services that are very solid and powerful. But for small business owners and people without a technical background, this could be pretty challenging. 
All send/receive configurations must be completed to connect your Mailgun account with WordPress and the different WordPress plugins. In addition to this, you have to do a couple of additional steps to establish the connection. Another unpleasant limitation of the free account with WordPress is that you are limited to sending 200 emails per day. 
Mailgun is an excellent solution for developers, companies with technical teams or people with technical skills that can handle the configuration. Also, for people with a bigger budget to allocate for emailing.