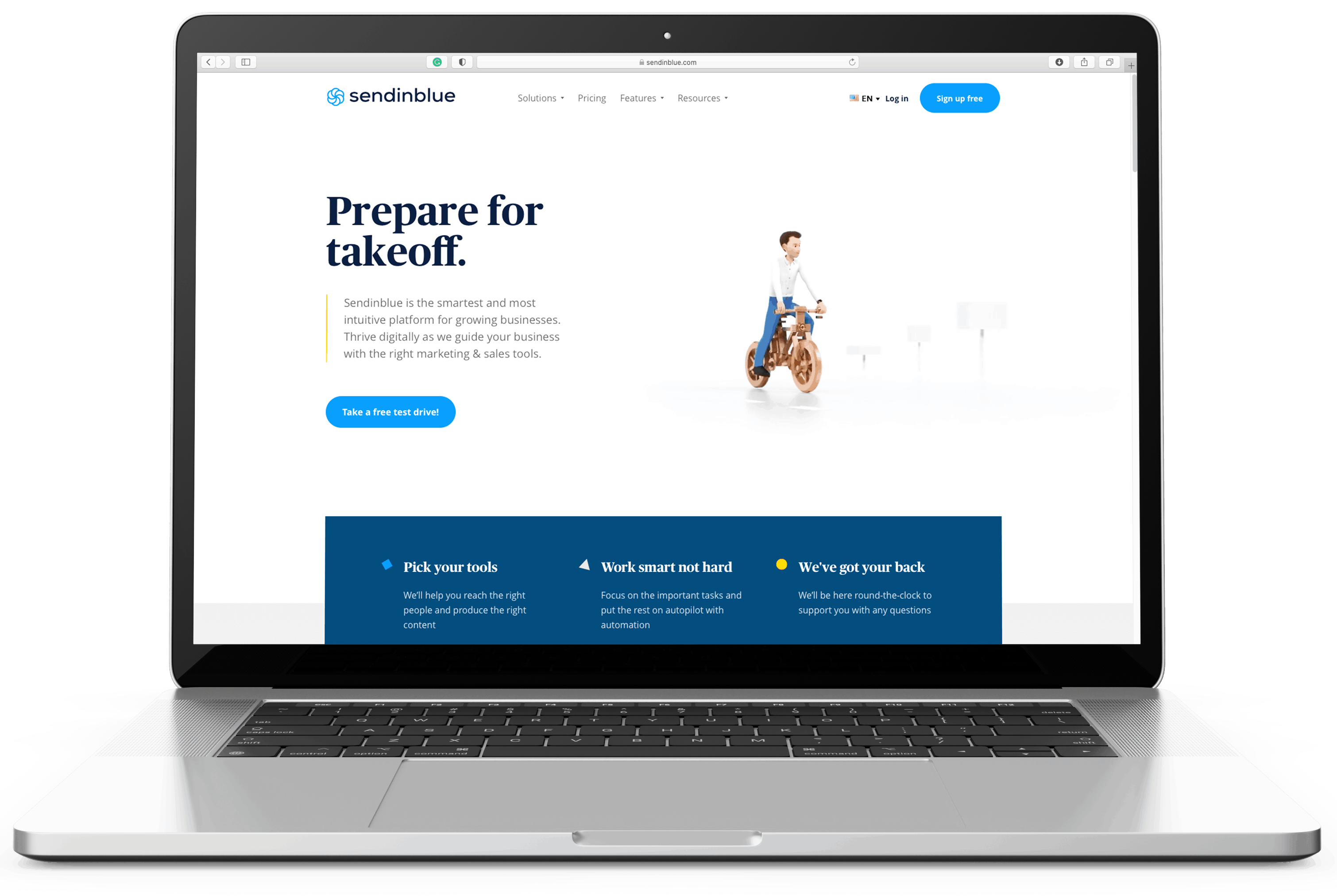 Email marketing has been around for decades already, and it is still one of the most effective marketing strategies. Since almost 4 billion people globally use email, businesses that use emailing benefit from more considerable exposure, broader brand recognition, a loyal customer base, and an increase in sales.
There are various emailing tools and services to choose from. Some of the essential aspects when you are choosing a partner are – how many contacts you can store with them, automation options, reporting, segmentation, pricing and, of course, how easy it is to use it. One of those solutions is SendinBlue.
About SendinBlue
SendinBlue is an all-in-one marketing platform. They help customers cover their whole marketing funnel with email marketing, transactional emailing, SMS, chat communication, Facebook ads, automation and CRM. This makes them very flexible and versatile.
They have some great capabilities that can ease campaign optimization like automation, segmentation, personalization not only of the email but also landing pages and forms. SendinBlue offers many plugins such as WordPress, Magento, Salesforce and Woocommerce.
The signup process for SendinBlue is considerably easy, but you still will have to pass through a verification process to use all their capabilities. When you create your account, you will be asked to add information about your business and yourself. However, adding a payment method is not requiredif you want to stay on their Free plan.
Verifying yourself as a sender is easy – you will just receive an email with a link you have to click on. Verifying a domain, however, might require some technical knowledge because you will be asked to either:
Upload a file to your domain's root directory
Add a DNS entry to your domain
Send a verification email to the technical addresses associated with the domain
SendinBlue Pricing
SendinBlue has a free plan which you can use for as long as you would like. There are some limits to this plan – you can send only 300 emails per day, and you won't have access to support after the first 60 days.
After that, they offer a Lite plan that starts from $19 per month for 10,000 emails that include unlimited contacts, email support, and unlimited access to email support. Like the Free plan, the Lite plan adds the SendinBlue logo on your emails, but it can be removed with an add-on for $19 per month. The maximum number of emails you can send on the Lite plan is 100,000 emails for $69 per month.
Their Premium plan includes many more features like Facebook ads, phone support, automation, landing pages, users, deliverability functionalities, etc. It starts from $49 per month for 20,000 emails. You can send up to 1 million emails with this plan for the price of $499 per month.
If you want to add more functionality to your plan or send more emails, the SendinBlue sales team will create a customized plan.
SendinBlue Features
Now let's have a look over the best features of SendinBlue:
Email automation – the options that SendinBlue offers are pretty diverse, and you can trigger different flows based on user's behaviour on a website or email, variabilities you added and more.
SMS – you can combine your emailing with SMS. It is the perfect solution for services that need to send verification codes or other types of tokens that are time-sensitive.
Deliverability – they offer different functionalities to improve your deliverability (e.g. dedicated IP address), but even without those, you can count on a very excellent deliverability rate.
Reporting – you will have access to detailed information about your campaigns to optimize your emailing.
Integrations – SendinBlue offers integrations with WordPress, Magento, Salesforce and Woocommerce.
SendinBlue is a very stable service that can support you with almost anything needed for your marketing funnel. And this makes them perfect for big businesses with a lot of needs. However, nanoPost is the ideal tiny alternative for smaller businesses where you can find all you need and not bother yourself with a complicated setup and interface.