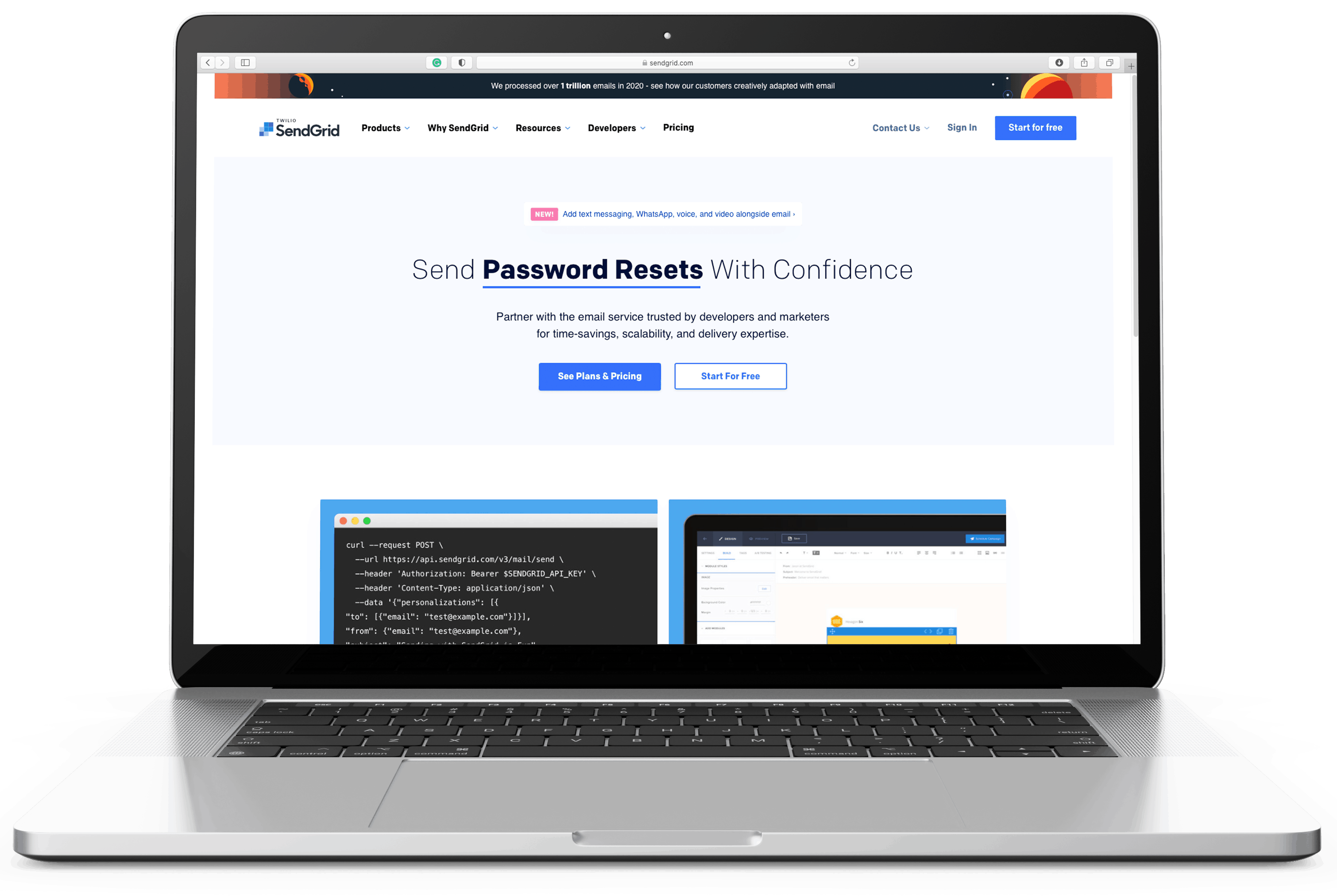 As a business owner, you know that attracting users doesn't end after they register for your site. To sell your product or services, you need to think about nurturing them after that. One way is through email marketing that can help you increase engagement and conversion. SendGrid is a service that can help you perform almost any email marketing activity. They offer robust infrastructure that can help you create a curated message for each segment of customers you have. However, you will have to pass through an authentication process and have a stable budget to use them. 
This article will talk more about SendGrid and what they can offer you as services and can be used with different integrations like WordPress and others. But also, we will propose to you a tiny alternative that you can use – nanoPost.
About SendGrid
SendGrid is a service that helps senders manage their marketing and transactional emails and guarantees them the best delivery possible. Over 80,000 global customers use their service. Like most other cloud-based emailing providers, they can help you create your emails, execute A/B tests, segmentation, API and SMTP connections, and much more. 
Signing up for an account at SendGrid will mean you have to pass through a few steps to use your accounts fully. Those steps need to be executed even for a free account. They include adding the details for your company, payment details, creating and verifying a 
Single Sender, and authenticating your domain. The process is not very hard, but it can be tedious, and for people without a lot of technical knowledge could cause trouble.
SendGrid Pricing
SendGrid offers a free plan that you can use forever, but you will be limited to sending 100 emails per day. This would be enough for small businesses that are just starting, but when you come to the moment that you might need to send more than 100 emails per day, you can sign up for their Essentials or Pro plans. 
The Essential plan starts from $14.95 per month, and you can send up to 100,000 messages per month. The plan includes the basic functionalities of SendGrid. If you need more emails and want dedicated IP or email verifications, you will have to go for the Pro plan.
The Pro plan, starts from $89.95 per month. With this plan, you can send up 1.5 million emails for the price of around $749 per month. Of course, if you need to send more emails or want something more personalized, SendGrid offers Custom packages. 
SendGrid Features
Let's mention some of SendGrid's benefits:
If you are a big business with the need to send a lot of emails daily with a guarantee, Sendgrid can support you with their excellent infrastructure and 99.999% uptime;
They offer customer support for all of their plans;
Their A/B testing and segmentation functionalities will help you create the perfect curated content for different user personas.
API and SMTP connections that help you track every single email you sent in detail;
SendGrid offers detailed reports that guarantee your marketing team has all the information they need to adapt your emailing strategy and make it even more successful.
We should note that even if SendGrid is not a technical emailing service, setting up your sender and verifying your domain will require some technical knowledge. Also, SendGrid is a solution targeting businesses of all sizes, but their pricing might not be perfect for small businesses. 
SendGrid is also not a service that focuses strongly on integrating its service with other service providers like WordPress. Their WordPress direct plugin is no longer available, and if you want to use them to send emails through your WordPress site – you will have to use a third-party tool to integrate their service with WordPress. This can be inconvenient because even though there are free third-party plugins, they also have their limitations, and it might make the whole connection more expensive if you want to use their full potential. Also, establishing the connection could be more complex and time-consuming. And, of course, there is a higher possibility of breaking when you have more links in the chain.