Netcore Email API (formerly Pepipost) as a WordPress SMTP server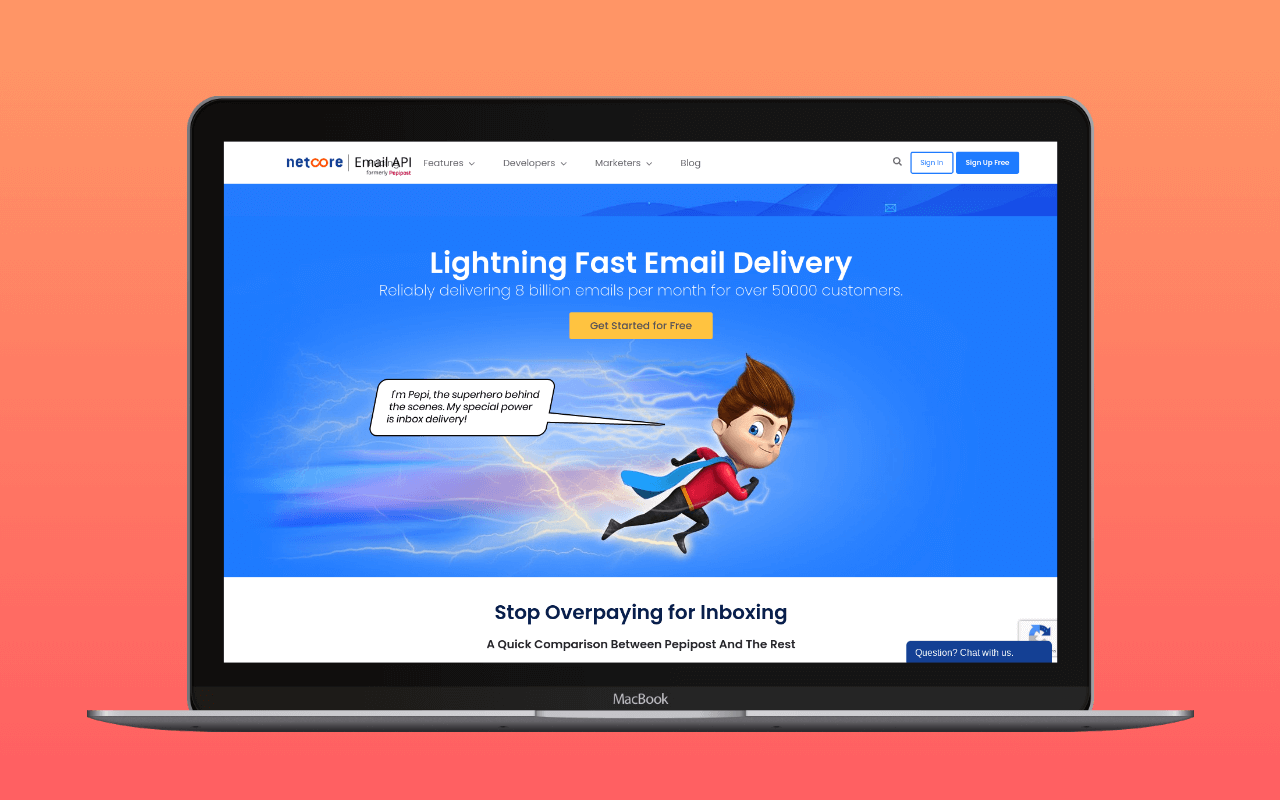 Everyone uses email. But there are still businesses that don't know how exactly to take advantage of this. Whether it is a welcome email you are sending, order confirmation, a regular newsletter or email through a contact form, you can benefit from Email marketing enormous potential.
The truth is that good email marketing today looks a lot different than it did a couple of years ago. You need to be sure your emails arrive on time because no one will wait longer than a couple of minutes for email. But you also need to make sure your emails are eye-catching to ensure the user will pay attention to them. With the right tools, you can make it beautiful and well-designed, so it's not only useful but looks good on any device.
Mailchimp, Mailgun, SparkPost and Netcore are some of those tools that can help you. This article will discuss Netcore (formally Pepipost), what they can offer you as services and can be used with different integrations like WordPress and others. Also, we will propose to you a tiny alternative that you can use – nanoPost.
About Netcore
Netcore (formerly Pepipost) is an email service that offers easy integration via SMTP, API and plugins. This is the perfect solution for developers or companies with tech-savvy people in their marketing team. Since it uses API and SMTP, this can be the perfect fit for any transaction emailing. It helps you send emails efficiently and guarantees an efficient inbox delivery too.
Similar to competitors, Netcore/Pepipost is a cloud solution. They are proud to say they offer a smooth user experience characteristic of software, which are high-end. Some of their offerings include features for email tracking or linking back responses back to an internal system you are using. One of the main benefits of Netcore is that it can be integrated and connected with many platforms like WordPress, Drupal, Zapier and others.
Creating your account won't be that easy for people without technical knowledge. In the second step, you will be required to provide your domain name and verify the ownership by adding some records in your DNS zone. This, combined with Netcore's solution for developers, automatically excludes it as a possible tool for people without technical skills.
Netcore Pricing
The ricing of Netcore is based on the number of emails you send per month. You can choose between monthly and annual billing, and the yearly one will save you 30%.
Their pricing tiers are as follow:
150,000 emails for $25 per month ($0.60 for every 1,000 extra emails)
400,000 emails for $8 per month ($0.55 for every 1,000 extra emails)
600,000 emails for $145 per month ($0.50 for every 1,000 extra emails)
1,000,000 emails for $245 per month ($0.45 for every 1,000 extra emails)
2,000,000 emails for $445 per month ( $0.40 for every 1,000 extra emails)
They also offer a free trial that lets you send 30,000 emails in the first 30 days and a "forever free" account with a daily limit of 100 emails.
Netcore Features
Some key of Netcore is:
SMTP service – use the excellent SMTP connection of Netcore to guarantee that all of your emails are sent and delivered on time.
Email API – Netcore offers a robust API that makes it easy to send all types of emails precisely as you want them.
Data Security – something that Netcore is very proud of because they are one of the services with the best security insurance.
Subaccounts – thanks to the easy subaccount management, you can split your traffic and use it for multiple domains.
Integrating Netcore with different services like WordPress is easy because they have worked very hard on creating flawless integration. However, all of the technical struggles you might have as a non-technical person using Netcore will remain. You will still have to perform a couple of technical operations to activate your account and use it.