Mailjet as a WordPress SMTP server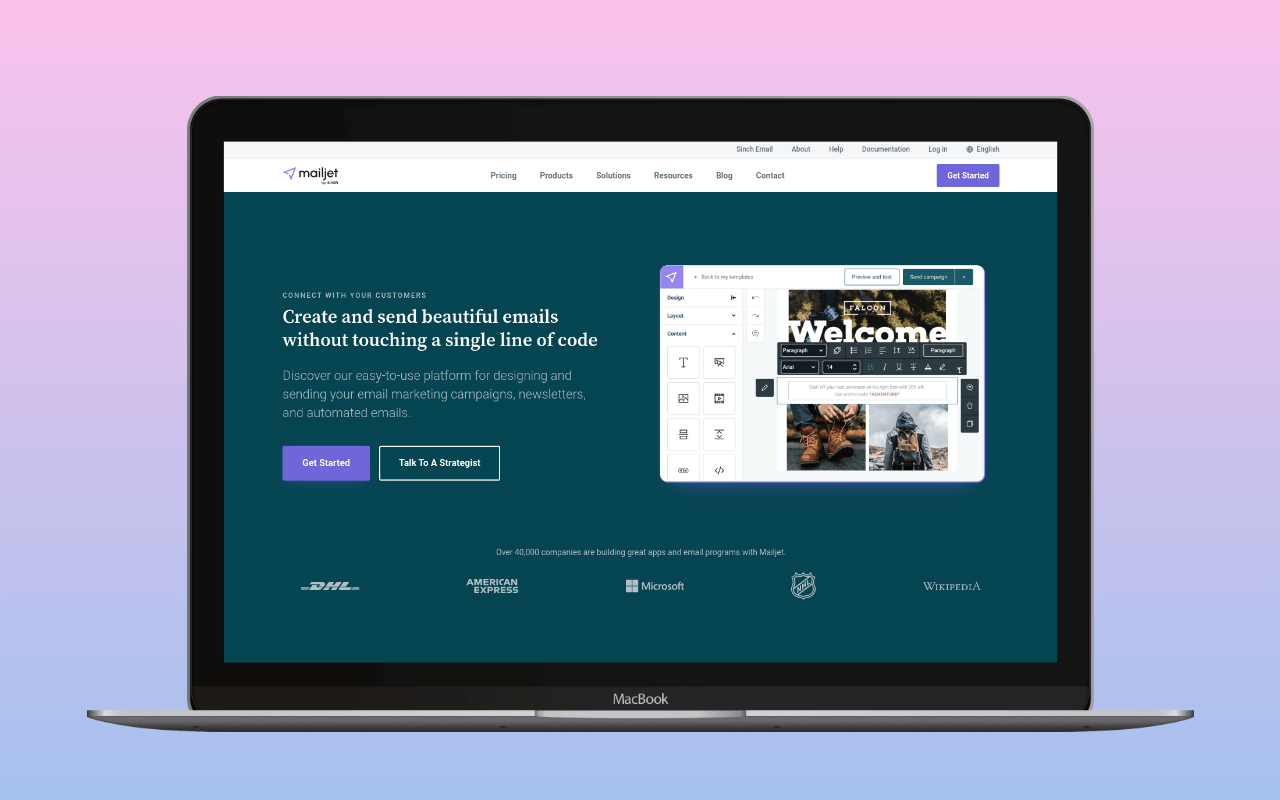 Mailjet is considered one of the more affordable solutions for email marketing but still offers very reliable service. They can help you cover all the parts of your emailing – marketing and transactional by providing services for marketers and developers.
They offer collaboration, automation, transactional email and SMS. But what they are powerful at is their editor, which anyone can use to create beautiful emails. Plenty of integrations are supported, and also API and SMTP connections are available.
When you sign up for Mailjet, you need to go through a verification and authentication process, as with most providers. You will be asked to fill out information for your business, and after that, you might be asked some additional questions as well. To verify your email and your domain will require a bit of technical knowledge since you will have to add some records in your DNS zone.
Mailjet Pricing
Their free plan includes 6,000 emails per month, with a limit of 200 emails per day. Despite the limit, this plan has two big benefits – you can stay on the free plan forever, and no credit card is required. However, there are some downfalls, like a Mailjet logo that is added to your emails, and having no support after the first month.
If you need to send more emails, you can choose between the Essential and Premium plan depending on the additional services you want.
The Essential plan starts from $15 for 15,000 emails per month and includes some basic functionality – segmentation, one sub-account and unlimited support.
With the Premium plan, you will receive a lot more, such as A/B testing, automation, advanced analytics and much more, starting at $25 per month for 15,000 emails per month. If you need even more emails, the price of the Essential and Premium plan will grow, or you can always request a custom plan from their sales team.
Mailjet Features
Some of the best functionalities that Mailjet offers are:
Responsive drag and drop editor – it has never been easier for marketers to create emails. You don't need to write a line of code to create your emails. Just drag and drop the sections you want and fill them with text or images.
User collaboration – when you need to collaborate with different people on your email design, you can do it in real-time and see who is doing what.
Deliverability – Mailjet offers dedicated IPs to help with your deliverability and make sure your emails are landing in the inbox. Deliverability specialists can always support you in case of issues.
API and SMTP – if you want more detailed statistics or more power over your segmentation, they offer you API and SMTP connections.
Detailed statistics – their dashboard will give you a good overview of what happened to your emails. Based on this, you can implement any changes to your emailing strategy.
Mailjet is a service suitable for marketers and developers. However, as we mentioned, the initial process will require you to have some technical knowledge and verify your sender and/or domain. They also have pretty limited automation and segmentation functionalities, but there can be enough if you don't have many different user personas on your list.
Mailjet offers many integrations with a variety of different tools and services. One of those is integration with WordPress and various WordPress plugins as well. They offer three ways to install their plugin – download within your WordPress Dashboard, download from WordPress.org or Install it from their GitHub. For marketers, the first two solutions are the preferred ones. Mailjet also has detailed documentation on how to use this integration. However, the process of verifying your sender and domain with Mailjet itself still will be the same, and this might be an issue for people that want an easy way to use a non-technical solution.