How to enable "Less secure app access" on Gmail
Google

announced that from May 30, 2022 it is deprecating login by third-party apps with username and password alone.

Users are advised to use

App Passwords (which require two-factor authentication to be set up in the account) instead.

We're keeping this article available for archival purposes.
The following video shows how to work around the deprecated "Less secure app access" for programmatic access:
Google may block sign-in attempts from some apps or devices that do not use modern security standards. Since these apps and devices are easier to break into, blocking them helps keep your account safe.
If you have to allow an application to access your Google account, you can disable this security block. Here's how to do it.
Have a WordPress email problem right now? Ask us about it.
We'll attempt to publish a solution ASAP for free. Challenge us!
Note
Setting "Allow less secure apps" is NOT available for:
– Accounts with two-factor authentication (2FA) enabled.
– Google Workspace users whose Workspace administrator has disabled this feature.
Sign in to your Gmail account

Click here: https://www.google.com/settings/security/lesssecureapps to access the feature setting under My Account. Next to "Allow less secure apps: OFF," select the toggle switch to turn ON.

The result should look like this: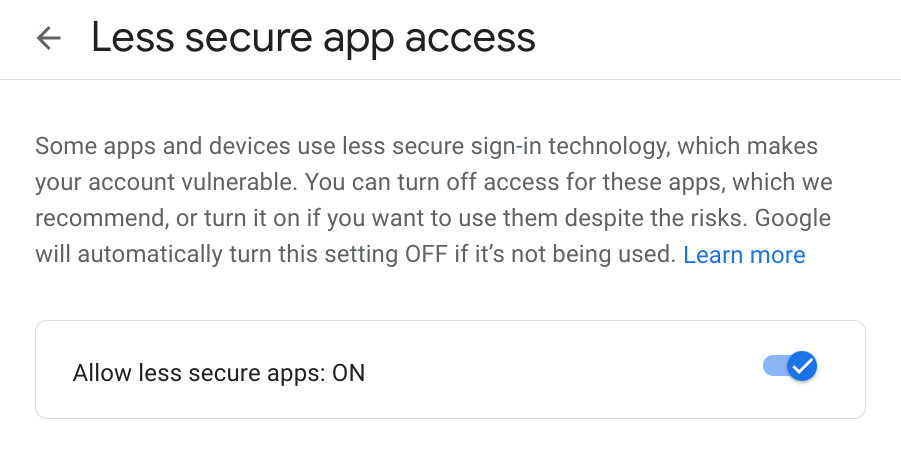 Visit the Display Unlock Captcha page and click Continue to remove the security block.
That's it! You have enabled "Less secure app access" on Gmail.
The credentials you'll need to make use of this feature are: your Gmail username and your Gmail password.